(Last Updated On: April 18, 2018)
Not only have we tried just about every workout series in the Beachbody On Demand list of available programs, but we've reached out to others who have done the same to get a feel for whether our take was in line with the general opinion of other Beachbody users. We have surveyed many users to get a collective take on Beachbody On Demand reviews to give you the definitive guide to the best programs to get you toned up, as well as which ones to avoid.
We also have a complete guide with every Beachbody on Demand exercise.
---
Beachbody On Demand Key Features
Sign up For Beachbody On Demand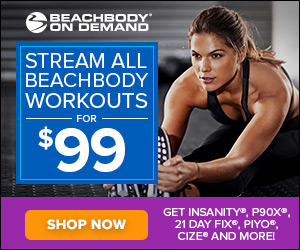 Before you get into the workouts, you need to know what you're up against. The Beachbody On Demand costs are:
14-Day Free Membership and then 3 Month Membership is $39 ($13/mo)
30-Day Risk Free Trial with 6 Month Membership is $59 ($9.84/mo)
30-Day Risk Free Trial with 12 Month Membership is $99 ($8.25/mo)
This gives you access to community forums that are great resources when you are either looking at unique ways to modify workouts or great motivation to push through barriers. You also get access to over 400 videos with the base package. One thing I love about this option is the ability to customize your own workout routine, which is great for those who have gone through a couple of programs already. Now, I can pinpoint my weaknesses in my fitness and tailor which videos I want to do to get past any plateaus I face.
Another thing that can't be overstated is that you don't need a DVD player to play the videos. If you have a smart TV or Chromecast, you can play the videos in any room wherever you like to workout.
But enough about the nitty gritty — check out the best and worst videos, along with our Beachbody On Demand reviews that will help you know what to try, and what to let slide.
Compare Beachbody On Demand vs DailyBurn
---
The P90X Series
With Beachbody On Demand, you have access to P90X, P90X2 & P90X3. You also get the original Power 90 for anyone who wants to go into "throwback mode." These are the perfect series to start with, as they are the best programs to get you acclimated to what the entire Beachbody On Demand series has to offer. Along with the P90X programs you know, there is also a P90X ONE on ONE, which features just Tony Horton guiding you through some intense P90X-style workouts.
P90X Series Grade: A-
---
The Shaun T Series
What we're calling the Shaun T Series features workouts like Insanity, T25, Rockin' Body, and Hip Hop Abs. Shaun T is a higher intensity version of Tony Horton, and his style is preferred by some (me), but too much for others. I really like Insanity and T25, and use those 30 minute videos as regular tune ups when I need a good burn. These videos are staples when you are using Beachbody On Demand.
Shaun T Series Grade: B
---
The "Booty Series"
The Booty Series needs no introduction and features programs like Brazilian Butt Lift and Yoga Booty Ballet. Now, while I didn't do too many of these, I did come home to my wife working out to these, and she had some mixed reviews as to how well she liked them. Ultimately, most programs will tone your entire body, including the booty, so I would tend to steer anyone looking for total fitness toward some of the other videos.
The Booty Series Grade: C+
---
Best of the Best
Sign up For Beachbody On Demand
While there are tons of great videos in the Cize series and Body Beast series, the best program we've found in the BeachBody On Demand series has to be Core de Force. Now, I enjoy the "fighter" style workouts where I am punching, kicking, and throwing elbows. It's not for everyone, but I do these videos more than any other, and love the way the workouts are timed. I forget that I am working out and by the time I'm done, I am soaked in sweat! If you haven't tried this, definitely give Core de Force and More de Core a try!
Core de Force Review: A+
Read My In-Depth Core De Force Review
Check out the Core De Force intro video: